Practical information
The language
Icelandic is believed to have changed little from the original tongue spoken by the Norse settlers. Icelandic has two letters of its own, Þ/þ and Ð/ð. Þ is pronounced as th in thing, Ð is pronounced as th in them. Other languages: some knowledge of English is almost universal and most people speak Danish or another Scandinavian language. French and German are also quite commonly spoken.


Tipping
Service is invariably included in all prices for restaurants, hotels, taxis, hairdressers etc. Tipping is therefore not customary in Iceland.


The people
The Icelanders are of Scandinavian origin, with some early blending of Celtic blood. The total population is 267,809 (as of Dec. 1, 1995), of which more than 59% now live in Reykjavík and surrounding towns.


Names
Only about 10% of Icelanders have surnames or family names. The rest use the system of patronymics, i.e. instead of a surname the first name of the father is used, with "son" or "dóttir" (daughter) added to it. Thus Jónsson means the son of Jón, and Halldórsdóttir means the daughter of Halldór. People address one another by their first names. The telephone directory lists people by their first names.


Clothes
When travelling in Iceland you should bring along lightweight woollens, a sweater or cardigan, a rainproof (weather-proof) coat and sturdy walking shoes. Also bring your swimming suit. Travellers who are camping or heading into the interior will need warm underwear socks, rubber boots and a warm sleeping-bag.


Weather
Thanks to the Gulf Stream, Iceland enjoys a cool temperature ocean climate: cool in summer and fairly mild in winter. However, the weather is very unpredictable and tourists should be prepared for the unexpected.


Reykjanes is the first sight that greets most visitors to Iceland when they arrive at Keflavík International Airport. The peninsula is within easy reach of Reykjavík for day trips or even short visits, yet surprisingly "wild" in places, with rugged lava fields and grassy spots, easy small mountains to walp up for outstanding views, and impressive coastal sceneny of cliffs and little fishing villages alike.
The lava on which Reykjanes lies - really ocean floor which has risen above sea level - is so porous that there are no surface rivers, although a number of spring-fed lakes are found. Above all, howeverm it is intense geothermal activity which characterizes the region: billowing steam and colourful mineral deposits in high-temperature fields.


Krísuvík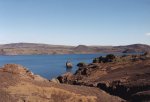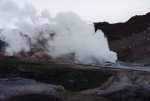 A geothermal area by Kleifarvatn lake, where blowing steamholes and bubbling mud pools can be inspected at close range.

Bláa línið
The Blue Lagoon, the pearl of Reykjanes, is the main tourist attraction in thie area, if not in the country. Formed by natural runoff water from the Svartsengi power plant, dark blue in colour - sometimes clouded with mighty columns of steam whirling off the plant's pressure pipes - it is the perfect setting for the swim of your lifetime.

Krísuvíkurberg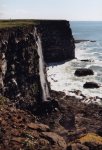 The Reykjanes area abounds with accessible bird cliffs and is therefore prime terrain for birdwatchers. Some of the most impressive spots are Krísuvíkurberg cliff and Hafnaberg. You can see lost of birds nesting on the cliffs like stormy petrels and puffins.


South Iceland stretches all the way from Reykjavík's doorstep to Vatnajökull glacier but conveniently includes many of the Iceland's main natural and historical sightseeing attractions within the space of of a day trip from the capital.
Although the large expanse of flat lowlands which were seabed a few million years ago provide outstanding places for farming, the twin presence of volcanic and geothermal forces infuse the whole landscape with drama and magnificence. The still-active volcano in Mt. Hekla plays the leading role, but places as Þórkmörk and Landmannalaugar nature reserves have long attracted hikers and holidaymakers in search of a different world within easy reach of the capital.
South Iceland is by no means densly populated, but there are more towns , villages, service centres and small communities spread throughout the the western part - between Reykjavík and the Eyjafjallajökull and Mýrdalsjökull glaciers - than is typical for most of the country, and travelling between them is smoother. Beyond the glaciers there is more sandy terrain, which is constantly swamped by glacier burst, most recently with meltwater from the volcanic eruption under Vatnajökull.


Geysir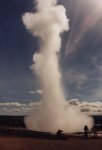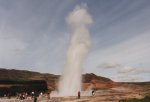 The worlds largest geyser, whose name (meaning "Gusher") is the generic term for this strange phenomenon. Geysir, believed to have been formed in the thirteenth century, is a bowl 18 m in diameter with a 20-meter-deep chamber below. Its eruptions are majestic but increasingly rare in recent times, although the keepers of the site do induce dramatic spoutings on certain occasions.
A smaller, adjacent hot spring, Strokkur, is a popular attraction, erupting at 5-10 minute intervals. The whole area contains a variery of hot springs and bubbling pools.

Gullfoss
"Golden Waterfall", renowned for its breathtaking beauty. This mighty two-tiered-cataract creates a majestic spectacle as it thunders 32 m over a fault into a gorge which measures 2.5 km in length and up to 70 m deep in places.

Kerið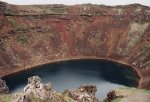 Beautifully formed crater, 55 m deep and with a blue pool at its bottom.

Seljalandsfoss
Picturesque waterfall, 40 m high. A path lies at the bottom of the cliff where it cascades down, offering a safe and easy opportunity to walk behind the waterfall to the other side.

Þórsmörk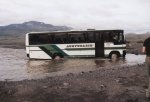 Beautiful nature reserve partially hidden among the three glaciers Eyjafjallajökull, Mýrdalsjökull and Tindfjallajökull. There are countless small valleys, fine birch woods, glacial rivers, crystal-clear brooks and magnificent mountain scenery.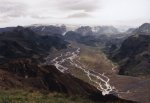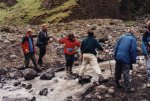 Some tourist huts are available, along with a camping ground and endless opportunities for hiking.

Skógar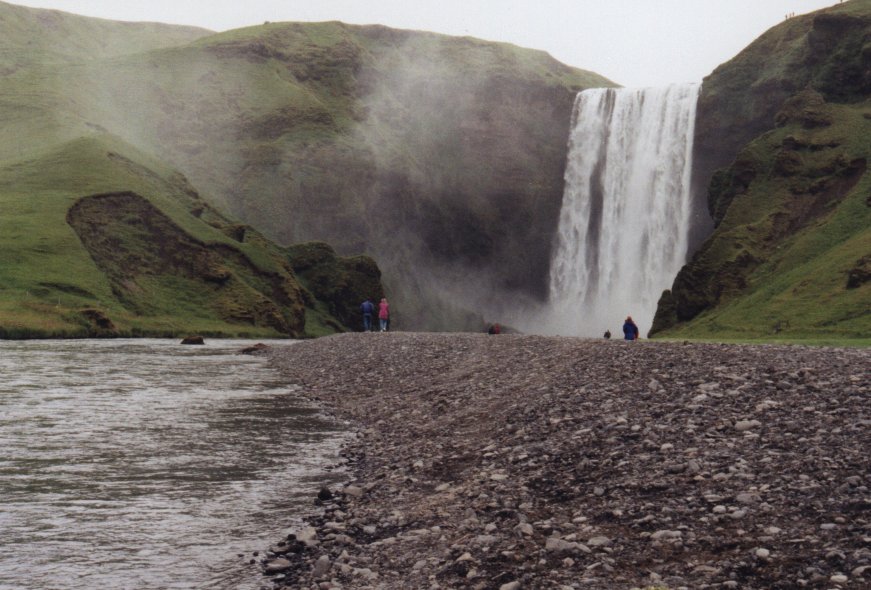 Beautiful natural surroundings, a nice folk museum (male visitors beware of the owner) and summer accomodation facilities make this a popular tourist resort. Skógafoss waterfall, 60 m high, is one of the most impressive in the area. On top of the mountains overlooking the area is the glacier Eyjafjallajökull, whose peak of 1666 m is the highest point in south Iceland.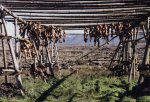 The picture on the left shows a wooden rack where fish is drying.

Mýrdalsjökull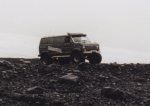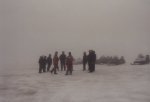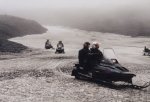 A large glacier, 1493 m highand about 600 square km in area. Beneath the ice is the mighty volcano Katla, which last erupted in 1918. Snowmobile hire and hiking trips can be arranged at the glacier. You will go with a Bigfoot truck into the glacier where you first get a briefing and then experience a fantastic ride. When I was there it was a bit foggy, which made the ride even more spectacular.

Dverghamrar
"Dwarfs' Cliffs", two clusters of peculiar basalt culumns.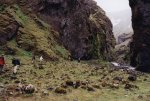 Generally recognized as having the mildest climate in the country, the east region boasts some of the richest vegetation and woodlands in Iceland. Hallormssatðarskógur near the regional "capital" Egilsstaðir is Iceland's only real forrest, while Skaftafell National Park, nestling against the glacier and dominated by the country's highest mountain (Öræfajökull, 2117 m) contains both thick birchwoods and a wealth of localized plants.
Although Egilsstadðir is a young town, people have live in the fertile surrounding countryside - the plains of Hérað sheltered far inland - since the Saga age. Elsewhere, the main population centres are the towns and villages lying in their respective fjords, close to each other on the map but separated by imposing mountains that rank with the oldest landforms in Iceland, at around 13 million years old.
Europe's largest glacier, Vatnajökull, dominates most of east Iceland in different ways. Along the plains and towards the north and east of the region, its legacy is the rugged mountains and deep, gouged valleys where mighty glacial rivers drain seawards.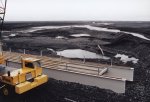 Towards the southeast from Höfn to beyond Skaftafell it has shaped the coast with heavy deposits of black sand, and its many glacial tongues are visible along a long stretch of the Ring Road. The pictue shows the construction of a new bridge after it had been teared apart by blocks of ice coming down Vatnajökull when a volcano under this glacier erupted just a few months earlier.


Skaftafell National Park
Towering mountains, imposing glaciers, gulches with clear brooks and beautiful waterfalls, birch woods, a wealth of wild flowers and lush vegitation. A walk on the marked paths along the gulches for a look at the waterfalls is a must for all the park's numerous visitors. The most majestic is Svartifoss. "Black Falls", plunging over a wall of symmetrical columnar baslt that recalls organ pipes. Places to explore on longer hikes include Sjónsker for a commanding view and Mórsàrdalur valley with its fine birch forest Bæjarstaðaskógur.


Skeiðaràrsandur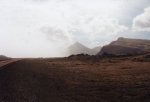 The largest sand desert in Iceland, about 1000 square km, formed by vast deposits from glaciers and volcanic activity under the Vatnajökull cap. Not bridged until 1974, when the final stretch of the Ring Road around Iceland was completed to coincide with the 1100th anniversary of the settlement.
On the picture a sandstorm is visible.

Ingólfshöfði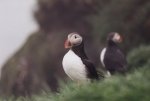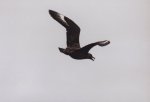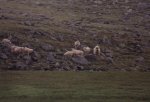 The single small mountain on the coast with its high bird cliffs is Ingólfshöfði (150 m), named after the first settler of Iceland, Ingólfur Arnarson, who spend his first winter in the area.
Thousands of puffins have nests on the cliffs. These birds are not scared at all, you can approach them quite close. Unlike some hunting birds, but be aware that they can attack you if you enter their territory. Also mountain goats can been seen here.

Jökulsàrlón on Breiðurmerkursandur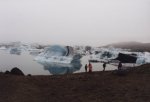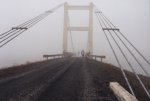 A fantastic 160 metre-deep glacial lagoon. At its upper end, the glacier occasionally calves icebergs which float around in the lagoon. The ice from the glacier is over 1000 years old, but the lagoon has largly been formed this century as the glaciers retreats in the warmer climate. A very popular sightseeing attraction, widely regarded as the most picturesque scenery in all of south Iceland. When we were there a thick fog was present at some places.

Höfn in Hornafjörður


Höfn in Hornafjörður is a burstling fishing and fish processing port as well as a commercial centre, with considerable farming in the neighbouring area, and has grown rapidly in recent decades. Since the completion of the Ring Road in 1974, Höfn has enjoyed excellent communication links with the rest of Iceland.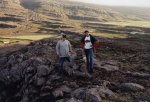 Marco and I build a nice stoneman near the farm where we were staying. Stonemen were made as landmarks when there were no proper roads. It is only made of rocks piled up. Some of these creations are more than a meter high.


Travellers in the uninhabited highland interior must bear in mind that driving there calls for a completely different type of preparation from travelling in inhabited regions, because services and assistance are simply noy on hand if any mishaps occur.
There is no reason to fear the interior, but motorists must travel in well-equipped vehicles. It is highly inadvisable to drive low vehicles such as regular private cars there.


Points to remember:

Roads in the interior are closed until spring and are gradually opened depending on the weather and local conditions (especially thawing), which are monitored by the Public Roads Administration. Some roads remain closed until well into the middle of summer. Weekly maps are issued showing which interior roads are open for traffic.
Travellers should always consult books and maps before setting off, to aquaint themselves with the areas they will be driving through and the possible dangers there. A compass and good maps are vital accessories.
Filling stations are few and far between, so motorists should make sure they have enough fuel for their journeys.
Unbridged rivers and streams should always be crossed with the utmost caution. Glacial rivers require particular care, since the currents and depth at fording places are liable to change sharply within a very short space of time. Motorists travelling by themselves are advised to wait until other travellers are within sight before they cross glacial streams and rivers, if the need for help should arise. The water level is always lowest early in the day, before the sun causes any melting in the glaciers.
There has been an enourmous increase in highland traffic in recent years, so travellers can no longer be certain of finding unoccupied mountain huts and shelters to stay in.
Some interior roads/tracks should only be crossed in convoy. Information should be obtained in advance from the Public Roads Administration or tourist information centres.
It is always a good idea to consult the long-term weather forecast made by the Meteorological Office. Special forecasts are now issued for weather in the interior.
Öskjuleið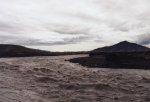 Öskjuleið, the route to the Askja volcano, turns from the Ring Road (main road no. 1) between Mývatnssveit and Grísstaðir, just west of the river Jökulsa à Fjöllum. The road to Askja continues southwards through Drekagil. Akureyri Touring Club has set up huts and a campsite at Drekagil, and a warden is on duty there during the summer.

Askja
Askja is a caldera in the Dyngjufjöll mountains, a cental volcano that has been piling up above Ódaðahraun lava field for hundreds of thousands of years and now covers an area of some 250 square km. Ódaðahraun means "lavafield of criminals". Many criminals were send into this area as a punishment. Most of them died of starvation or because of the cold. It was allowed to to kill each other. This was done to prevent people to form outlaw gangs. If you had killed three outlaws you could return to normal society. Or you had to wait twenty years before you had served your time.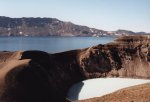 Around 50 square km of this area has sunk to form a caldera at Askja, whose bottom is at an altitude of about 1150 m above sea level. During an eruption in 1875, an area of 11 square km on the southeastern side of Askja caved in to form Lake Öskjuvatn, the deepest lake in Iceland (1050 m), and a crater known as Víti (Hell) north of it. At this lake I proved my Viking spirit by jumping bare naked into the ice-cold water.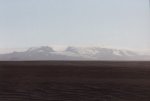 One one day we went with the bus into a desert. Although the warden said it was easy to travel there we got stuck with the bus in the sand. Most people in the group hiked back to the campground, while Jon, Bonne and me tried to dig out the bus. We almost succeeded but it was just too much. A four-wheel drive pulled us out.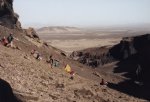 East of the Askja is a place where astronauts practised hiking in a remote area during the Apollo missions. They say that this site resembles a bit parts of the moon.

Herðubreiðarlindir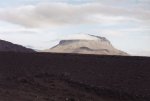 Another "oasis" with with much vegetation cover lying northeast of Mt. Herðubreið. Numerous springs issue from the Lindahraun lava field to form the river Lindaá, which subsequently drains into Jökulsá. From the springs there is a view to Mt. Herðubreið (1682 m), a wonderfully symmetrical table mountain which is often cited as a classic example of this type of volcanic formation. The first confirmed ascent of Herðubreið was in 1908.


Many of Iceland's most spectacular creations are found in the north: the bizarre lava formations and geothermal fields in and around Lake Mývatn, and the breathtaking sculptured landscape along the Jökulsárgljúfur chasm, are two of the best known.
In terms of culture and history, north Iceland has played an important role in shaping the nation through the centuries, the home of many poets, singers, scholars and heroes. The main main urban centres - the "regional capital" Akureyri, and the smaller towns of Sauðárkrókur and Húsavík - are thriving modern communities living in harmony with their powerful natural settings and in deep respect for their ancient roots.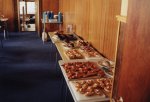 We stayed at a school (Skolabrekka) near Mývatn for a few days and used it as a base camp to explore the northern part of the island. On one of these days Bram and I prepared a typical Icelandic dinner. Shopping for these goods was already big fun. Most people tried everything and it was a day not to forget. Items that were available included boiled sheep head (I ate the nose and lips), an Icelandic form of haggish (boiled sheep stomach filled with intestines), fish balls, cured shark, puffins and freshly smoked salmon.

Krafla
High-temperature field with active volcanic craters. A steam-powered electricity generating station has been built at Krafla.
Mývatn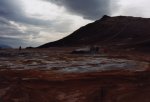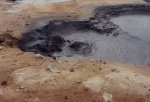 Among the largest lakes in Iceland. A variety of natural phenomena awaits the visitor: rich bird life, varied flora, lava formations, lava caves, traces of recent volcanic activity, geothermal fields, and the beautiful Lake Mývatn itself. The Mývatn village by the lake has developed in recent decades, partly around a diatomite factory, and also to provide services for tourists from all over the world.

Jökulsárgljúfur (National Park)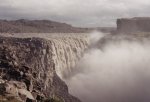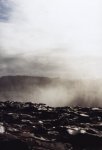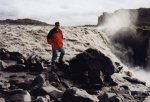 The largest and most rugged gorges anywhere in Iceland, through which flows Jökulsá, one of the country's mighty glacial rivers. In the gorge is Dettifoss, Europe's most powerful waterfall, contrasting strikingly with the smaller falls of Hafragilsfoss and Selfoss.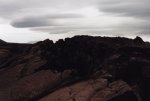 Among remarkable spots in the Jökulsá National Park are Ásbyrgi, a natural horseshoe-shaped rock enclosure, whose impressive walls reach a height of 90 metres, sheltering fertile and lush vegetation, and Hljóðaklettar, a great labyrinth of crags and rock formations. The picture shows a big crack in the earth crust. Clearly two different tectonic plates are visible here. Iceland is basically divided by two of these plates that cut the island into two parts.

Goðafoss
"Fall of the Gods". One of Iceland's most renowned waterfalls.

Húsavík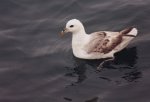 Húsavík is the commercial centre for a large agricultural area, a busy fishing port and export harbour. Húsavík received its name (House Bay) because of the houses built by the Swedish viking Garðar Svavarsson when he spent one winter there while exploring Iceland, before the settlement began. Húsavík attained municipal status in 1950.
Growing numbers of tourists are visiting Húsavík every year, taking advantage of its prime location as a base for touring the many natural wonders of the two Þingeyjar districs. The church in Húsavík is an unusual building that travellers should not forget to visit.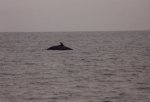 Above Húsavík is Mt. Húsavíkurfjall, whose top can be reached by road to enjoy a splendid view. Hot water from the Hveravellir springs in Reykjahverfi heats the houses in Húsavík. It is also one of the best spots in Iceland to do some whale-watching. I have seen about 15 Minke wales during a trip.


Tjörnes
Peninsula between the bays of Skjálfandi and Öxarfjörður, with remarkable strata from the Ice Age and the Tertiary period.


From the nortern part of the country we go back to Reykjavík via the interior highlands (road F26). The Sprengisandur road (Sprengisandsleið) links the Sigalda hydro station in the southern uplands with the northern uplands at Bárðardalur. In past centuries, Sprengisandur was a much travelled path: people from east Iceland crossed it on their way to the Althing, and bishops from the episcopal see at Skálholt often travelled it on their visitations to the east. The route was abandoned in the 17th century, but people began using it again at the end of the 18th century. Sprengisandur was first crossed by motor vehicle in 1933.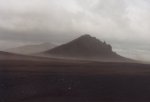 With its unbridged rivers, Sprengisandur is only safe for well-equipped 4x4 vehicles. The road is open at early july.
Nýidalur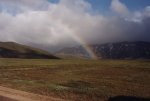 The route passes through the valley Nýidalur (Jökuldalur), 800 m above sealevel, a location of what is thought to be one of the highest continuous patches of vegetation in Iceland. A Touring Club mountain hut is in the valley.

Lake Þórisvatn
The Sprengisandur road continues to Lake Þórisvatn, which today serves as a reservoir for the Tungnaá and Þjórsá hydropower stations. Originally the lake measured 70 square km in area, but at its highest water level it can now cover up to 83 square km after the Köldukvísl diversion was channelled into it in 1971.

Þjórsárdalur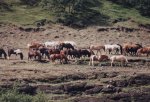 Today only two farms remain in the vally. During the old commonwealth, the valley had an estimated 20 farms, but most were destroyed by an eruption in Hekla in 1104. The ruins of the Stöng farmhouse well inside the valley were excavated in 1939, and preserved under cover as a particularly good example of farmhouse layout from the Saga Age. Later, they were used as a model for the Saga Age farmstead reconstruction (Þjóðveldisbærinn) near the old land of Skeljastaðir.

The last few days
Ljotipollur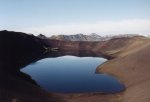 Beautiful explosion crater filled with water. Probably formed during the 16th century. The name means "Ugly pond" which I don't understand. They say the lake contains a lot of trout. A small road leads to the edge of the crater. By foot you can walk around the crater lake. After this spectacular view you can walk to Landmannalaugar via the mountain hiking trail or the trail at the bottom of the mountain next to the lake Frostadavatn.


Landmannalaugar
A very active geothermal area in the interior, along a valley surrounded by steep and colourful mountains. There are warm rivers and pools to swim and bathe in, some excellent hiking trails and magnificient natural phenomena.


Þingvellir
"Parliament Plains", where the old parliament, the Alþingi, was founded in 930 and met every summer for centuries. Now a national park, it is the place of great natural grandeur and rich colour, a vast lava plain flanked by fissures to the north of the largest natural lake in the country, Þingvallavatn. The area is the site of many of the most famous and crucial events and declarations in the history of Iceland.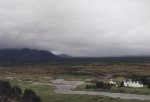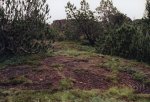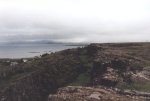 The middle picture shows what is called string lava. When the temperature of lava goes down a thin layer on the outside becomes solid while the inside is still melted (just like when you make hot chocolate). Sometimes the melted stuff still moves around and this causes the rimpeling effect on the outside. It looks a bit like little strings, that's why they call it string lava.
The right picture shows another site where you can see two tectonic plates.

Reykjavík
The last day I spend in Reykjavík. I don't know anything about the city during the day, because on the last day I made a trip to the Mýrdalsjökull to ride on a snow mobile. But I do know Reykjavík during the night. The best day to go out is on Friday. Starting at 11 o'clock pm the inner city comes alive. There are good places to have fun (good music, nice people), but keep in mind that a beer will cost you about 500 kroner. Yes, about 10 dollar for a beer! And still you will find drunk people. Amazing. The bars close around 3 o'clock am.
---
This document was last updated on 06/08/00